An article by Harriet Jones in Yorkshire Business Insider reveals the value of having a talented PR on your side
Two-hundred-and fifty news articles tell the successes and chart the history of property firm Knight Frank in Leeds every year. The stories, which focus on anything from deals done to appointments made, act as a hook to reel in new clients.
Partner Henrie Westlake says: "PR helps the company to be seen in a positive light by telling people what we do in the newspapers and in the journals we want to be in."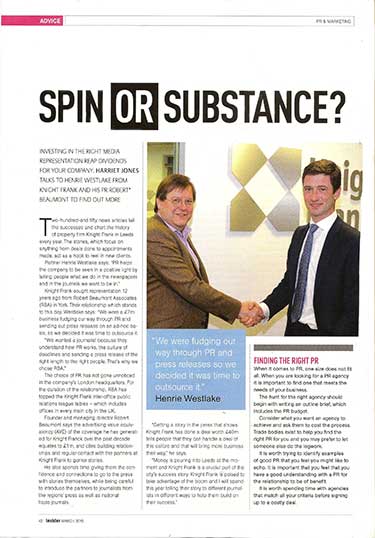 Knight Frank sought representation 12 years ago from Robert Beaumont Associates (RBA) in York. Their relationship which stands to this day. Westlake says: "We were a £7m business fudging our way through PR and sending out press releases on an ad-hoc basis, so we decided it was time to outsource it.
"We wanted a journalist because they understand how PR works, the culture of deadlines and sending a press release of the right length to the right people. That's why we chose RBA."
The choice of PR has not gone unnoticed in the company's London headquarters. For the duration of the relationship, RBA has topped the Knight Frank inter-office public relations league tables – which includes offices in every main city in the UK.
Founder and managing director Robert Beaumont says the advertising value equivalency (AVE) of the coverage he has generated for Knight Franck over the past decade equates to £1m, and cites building relationships and regular contact with the partners at Knight Frank to garner stories.
He also spends time giving them the confidence and connections to go to the press with stories themselves, while being careful to introduce the partners to journalists from the regions' press as well as national trade journals.
We were fudging our way through PR and press releases so we decided it was time to outsource it
Henrie Westlake
"Getting a story in the press that shows Knight Frank has done a deal worth £40m tells people that they can handle a deal of this calibre and that will bring more business their way," he says.
"Money is pouring into Leeds at the moment and Knight Frank is a crucial part of the city's success story. Knight Frank is poised to take advantage of the boom and I will spend this year telling their story to different journalists in different ways to help them build on their success."
Finding the right PR
When it comes to PR, one size does not fit all. When you are looking for a PR agency it is important to find one that meets the needs of your business.
The hunt for the right agency should begin with writing an outline brief, which includes the PR budget.
Consider what you want an agency to achieve and ask them to cost the process. Trade bodies exist to help you find the right PR for you and you may prefer to let someone else do the legwork.
It is worth trying to identify examples of good PR that you feel you might like to echo. It is important that you feel that you have a good understanding with a PR for the relationship to be of benefit.
It is worth spending time with agencies that match all your criteria before signing up to a costly deal.